An Introduction to SMASH Fashion
Los Angeles based rock dandies, Smash Fashion, features an all star line up led by the iconic Roger Deering with ex members of London Quireboys (Nigel Mogg) on bass, Finnish glam rock legends, Smack (Repo) on drums and Rock City Angels (Lloyd Stuart Casson), on guitars. The band has been entertaining audiences with their great songs and explosive stage show since 2004.
Oblivious to musical trends and fads, SF continues to forge their own unique world. SF has successfully managed through alchemy to distill all that is cool about rock music: 50's rock and roll, 60's Mod, Glitter rock, Power pop and Psychedelia; 70s hard rock and punk; to create their ownmusical Frankenstein. Singer/songwriter Roger Deering"s Lennon/Bolan influenced lyrics, open the door to a rock and roll fantasy land filled with toothless hunchbacks, witchy girls, sinful pigeons, opium dens, invisible friends, lonely pharaohs, aging beauty queens, psychedelic hermits, beehive hats and lots of big cats. And lets not forget his heart wrenching bittersweet love songs.
Musically, Smash Fashion prefers to take the high road. Even though the inventive arrangements and nifty rhythms will give the musical snob plenty to chew on, SF can pour it on hard and heavy. A loud and powerful band that can blow the face off any rock hungry crowd, SFs wicked sense of humor and their willingness to take the piss out of themselves, keeps it all in check.
With two full length releases under their belt, 2006's "A Gentlemens Guide to Sophisticated Savagery," 2009's "Don't Pet The Sweaty Things," and a 7" single, "Blame It On The Brandy," ( all on Electricpudding Recordings ) and a new release due this spring, Smash Fashion have cultivated a worldwide following.
SFs broad appeal has seen them opening shows with such legends as Ian Hunter, Arthur Lee and Love, The Zombies, Cheap Trick; 80s rockers such as Psychedelic Furs, The Alarm and Missing Persons; and current rockers like JET, Tsar; pop masters The 88 and UK sensations, Orson. Smash Fashion are that rare breed that can Rock any audience…..Step into the dandified world of Smash Fashion…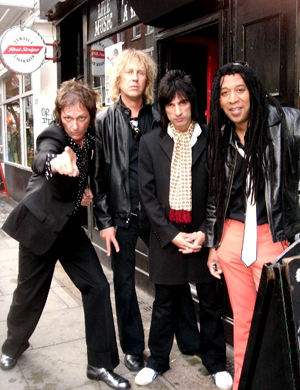 SMASH Fashion on Denmark Street London, UK 2011